CheckMe – My experience with Start-up Weekend 2019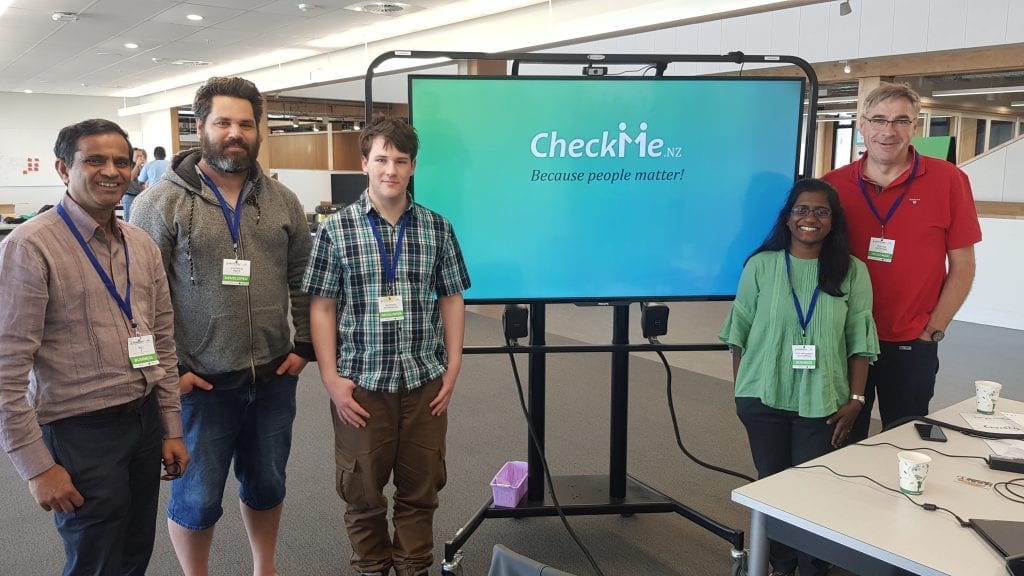 I was recently convinced to participate at a start-up weekend event and developed the concept for an app called CheckMe. I agreed partially to I could go and learn new skills around developing a business and partially as just something to do. After this weekend I have caught the start-up bug and I will be coming back next year to do it all again. The reason I'm writing this article is so that I can share the process and the challenges that we had to overcome to maybe persuade you as the reader to participate in a start-up weekend yourself.
Jumping in the Deep end
It is very intimidating trying something new, and even more so when you have a crowd of people judging what you have to say. The format of the weekend started on Friday night with food, drinks and socialising before the 'Pitches'. The goal of pitches is to convince other attendees that your concept or 'pitch' is worth spending the next 53 hours working on. Initially I was hesitant to stand up and pitch my idea to the room, but I realised that I was going to get more out of the experience if I throw myself in the deep end. The concept was to develop a personal safety application that was always watching and could call for help in a situation where the user could not ask for help themselves.
After pitching comes the voting, I was not expecting any interest in my idea and was secretly hoping to be eliminated so I could join a team developing one of my friends' ideas. As luck would have it people thought there was merit to my pitch and quickly became one of the highest voted. Next came the teams, I cannot express how grateful the wonderful team of people who invested their time and experience into developing CheckMe, our personal safety application.
The Team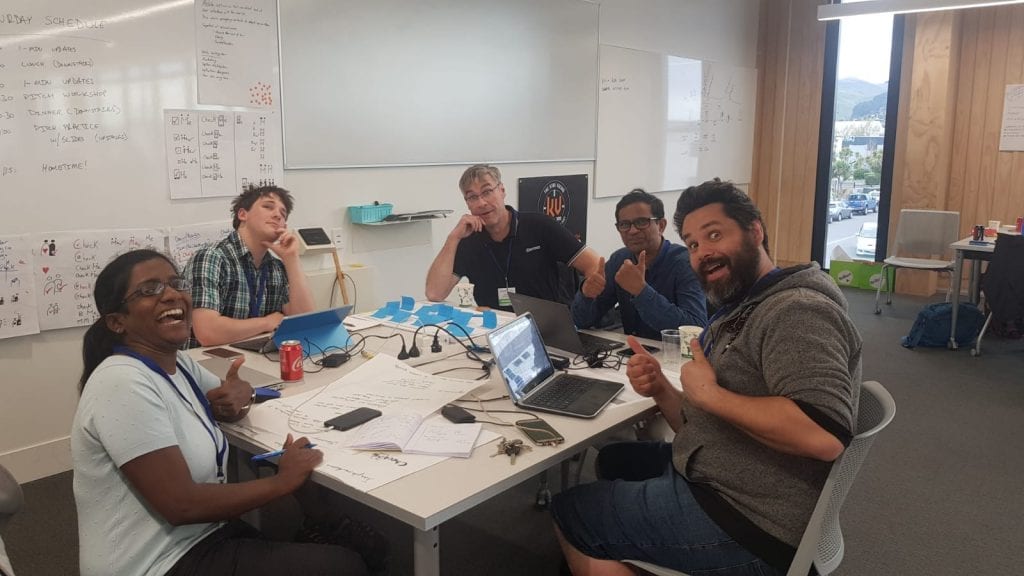 First, we have Sam, who was only able to participate for the evening but provided valuable input into the development of the concept. Then we have Trevor, a designer, and parent of two university students. Trevor challenged the assumptions and helped evolve the scope and developed designs for branding and app structure. Raj, one of our business-oriented members showed a broad range of abilities and spent most of the weekend on helping develop our application mock-up. Stephen is a developer day to day and his experience with development and previous start-up weekends proved valuable and was able to lead the development side of the project. Last and very much not least we have Devi, who probably was the hardest worker in the team, she excelled with developing the business concepts and presenting our final pitch in front of the judges. Everyone in the team each provided so much, and I hope that they feel that they got just as much out of the experience as I did.
Saturday – Let the games begin
Saturday morning marked the start point of the chaos to come, we began with finalising our vision and approaches and went to work. Trevor, Raj, and Stephen went to work creating wireframes and mock-ups for everything development related, while Devi and I created surveys to distribute and hit the streets to find validation for our concept. This pushed me out of my comfort zone, normally I'm an introverted person who will just avoid speaking to someone new. Having to go and speak to strangers and get their feedback was something that I hope will give me greater confidence if I ever need to do this again in the future.
Pitch practices began Saturday afternoon and pointed out some gaping holes in our business model which is the reason for having these practices. Armed with feedback from the amazing mentors who volunteer their time we set to work with a clearer idea for what we need to do to get over that finish line. From here we continued developing our interfaces, business model and collation of validation data.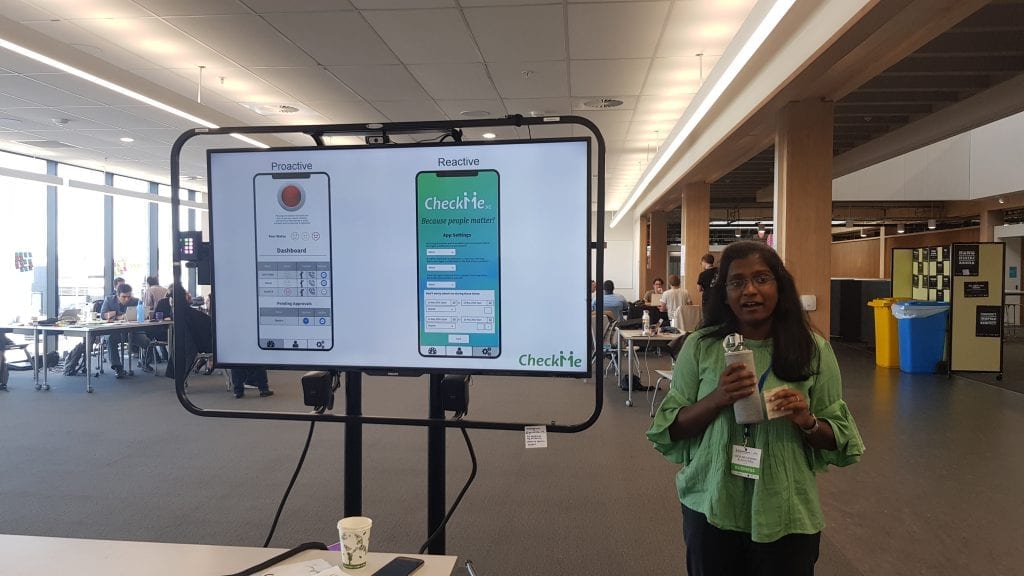 Saturday night and Sunday morning were where the grinding began, trying to collate all the validation data and concept into a 5-minute presentation. Because of the complexity and sensitivity of our concept, we decided to begin with a script of all the points and information we wanted to convey in that short amount of time.  There were constant revisions and changes made right up until judging. Once we had a structure and were happy that it was 90% of the way there we focused on the presentation. We needed a balance between what was being said in our script and what supporting graphics we wanted to display.
Judging Time
The time finally came to present in front of the judges and the other teams that participated. I was feeling a little nervous, knowing that our validation was the week part of our presentation. Devi stepped up to the plate and hit it out of the park with an exceptional presentation. Going last had its advantages, we were able to see how the other teams performed and felt that we did well, and we were proud of our effort and what we accomplished. This was reflected in the judges scoring as we walked away with a 2nd place finish.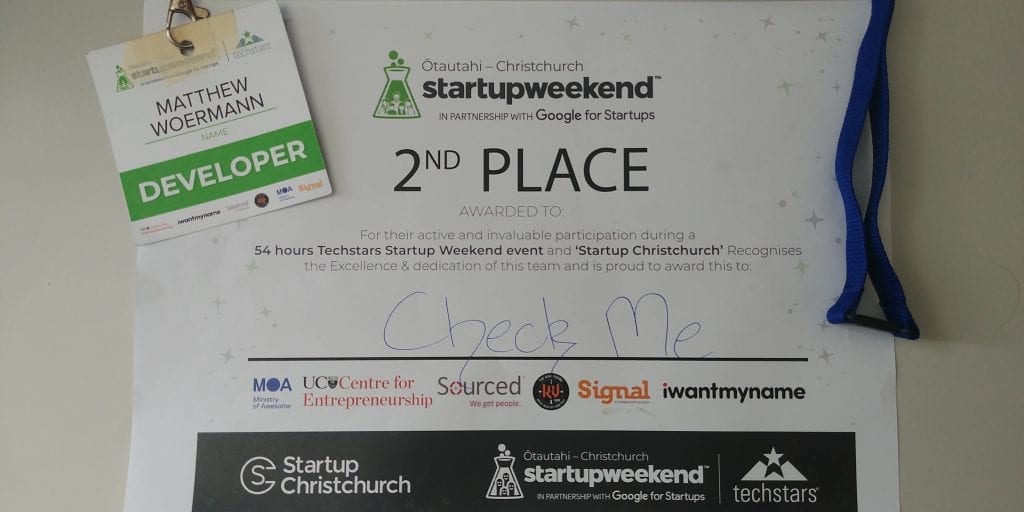 It was such a great experience and would highly recommend it to anyone curious. I am glad and quite proud that my decision to try and make the most of it resulted in 2nd which I think is quite an achievement for my first time attending. With that being said, none of it would have been possible without the support of an incredible team. If you want to learn more about the concept click here (for as long as it works).